Senior Lecturer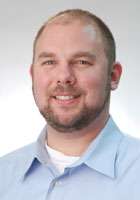 Education
Ph.D., UMBC, 2002
BS, UMBC, 1994
Professional Interests
Medicine, agriculture, and technology are increasingly dependent on molecular genetics, and issues of cloning, genetically altered foods, and cancer are topics commonly found in the news today. A grasp of basic genetics is essential to understanding these issues, and also leads to an appreciation of the complexity, and both the diversity and commonalities in the life around us.I teach Molecular and General Genetics and the associated lab, as well as Life – An Introduction to Modern Biology. Molecular and General Genetics and the Lab are required courses for Biology majors, and provide an introduction to both molecular and Mendelian genetics. While Life is a non-majors course covering a variety of modern issues related to molecular and Mendelian biology.The Genetics lecture course includes fundamental information on the structure of a gene, its expression and organization as deduced from analysis of viral and prokaryotic systems, the transmission of genetic material in eukaryotic systems, the interaction of genes in populations and the application of fundamental genetic principles to problems of human heredity.The Genetics lab furthers student's understanding of the principles of genetics through experiments including cloning and genetic recombination in bacterial species, as well as simulated crosses using Drosophila melanogaster fruit flies.  The lab also provides instruction in common biological laboratory techniques, scientific writing, and the experimental method.Life – An Introduction to Modern Biology is a lab-driven course designed for non-science majors. Topics covered include basic biological concepts such as the nature of DNA, heredity, human genetics and the process of mutation, as well as modern issues such as forensic analysis of DNA and blood, the biology behind cancer and genetic diseases, genetically modified foods, and others as determined by current events and interest.
I also developed and teach the lab portion of the Teacher Quality in Biology Program for Maryland High School Teachers here at UMBC. The TQB Program labs were developed for high school biology teachers to strengthen the technical skills required in a biological laboratory environment.
Publications
Tuajuanda C. Jordan, Sandra H. Burnett, Susan Carson, Steven M. Caruso, Kari Clase, Randall J. DeJong, John J. Dennehy, Dee R. Denver, David Dunbar, Sarah C. R. Elgin, Ann M. Findley, Chris R. Gissendanner, Urszula P. Golebiewska, Nancy Guild, Grant A. Hartzog, Wendy H. Grillo, Gail P. Hollowell, Lee E. Hughes, Allison Johnson, Rodney A. King, Lynn O. Lewis, Wei Li, Frank Rosenzweig, Michael R. Rubin, Margaret S. Saha, James Sandoz, Christopher D. Shaffer, Barbara Taylor, Louise Temple, Edwin Vazquez, Vassie C. Ware, Lucia P. Barker, Kevin W. Bradley, Deborah Jacobs-Serabb, Welkin H. Popebb, Daniel A. Russellbb, Steven G. Cresawncc, David Lopattodd, Cheryl P. Bailey, Graham F. Hatfull. 2014. A Broadly Implementable Research Course in Phage Discovery and Genomics for First-Year Undergraduate Students. mBio 5(1): e01051-13. [Abstract]
Pope WH, Jacobs-Sera D, Russell DA, Peebles CL, Al-Atrache Z, et al. 2011 Expanding the Diversity of Mycobacteriophages: Insights into Genome Architecture and Evolution. PLoS ONE 6(1): e16329.
[Abstract] [Text] [PDF]
Caruso, Steven M., Sandoz, James, and Kelsey, Jessica. 2009. Non-STEM Undergraduates Become Enthusiastic Phage-Hunters. CBE Life Sci Educ 8(4): 278-282
[Abstract] [Text] [PDF]
Caruso, Steven M. and Sandoz, James. 2007. BIOINFORMATICS – Identification of Bacteria using rDNA Analysis. Pages 423-433, in Tested Studies for Laboratory Teaching, Volume 29 (Kari L. Clase, Editor). Proceedings of the 29th Workshop/Conference of the Association for Biology Laboratory Education (ABLE), 433 pages.
Harold J. Schreier, Steven M. Caruso, Kerstin C. Maier. 2000. Control of Bacillus subtilis glutamine synthetase expression by glnR from Staphylococcus aureus. Curr. Microbio. 41: 425-429.
[Abstract] [PDF]
Presentations
The 2nd. Annual Running of the Phages at UMBC
The 2nd Annual NGRI Annual Symposium
Kelsy, Jessica, Sandoz, James, and Caruso, Steven
HHMI Janelia Farms Research Campus, Ashburn, VA
June 12, 2010
Non-STEM Undergraduates Become Enthusiastic Phage-Hunter
Regional Association of Biology Laboratory Educators (ABLE) Conference
Caruso, Steven M., Sandoz, James, and Kelsey, Jessica
McDaniel College, Westminster, MD
January 16, 2010
eBiology I & II – Hunting Phages at UMBC
NGRI Annual Symposium
Kelsy, J., Sandoz, J., and Caruso, S.
HHMI Janelia Farms Research Campus, Ashburn, VA
June 21, 2009
Bioinformatics for Beginners
28th Annual Association of Biology Lab Education Conference
Caruso, S.M.; and Claassen; Lark
Purdue University
June 7, 2006
Caruso, S. M. Regulation of Glutamine Synthetase Expression in Bacillus subtilis.
Graduate Association of Biological Sciences Research Symposium
Caruso, S. M.
UMBC, Baltimore, MD
April 12, 2000
Characterization of a Bacillus subtilis glnRA Repressor Mutant Exhibiting Altered Regulatory Properties.
Wind River Conference on Prokaryotic Biology
Caruso, S. M., K. C. Maier, K. W. Bayles and H. J. Schreier.
Estes Park, CO
June 6, 1997
Courses Taught
BIOL 302: Molecular and General Genetics
BIOL 302L: Molecular and General Genetics Laboratory
BIOL 109: Life: Introduction to Modern Biology
BIOL 123: Human Genetics
BIOL 123L: Basic Genetics Laboratory
BIOL 316L:  Phage Hunters Genome Analysis
BIOL 398: Co-op Internship in the Biological Sciences