Associate Professor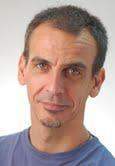 | | |
| --- | --- |
| Office: | BS 117 |
| Phone: | 410-455-2470 |
| Lab: | BS 105 |
| Lab Phone: | 410-455-3087 |
| Email: | erill@umbc.edu |
Education
PhD Computer Sciences, Universitat Autonoma de Barcelona, 2002
BS Computer Sciences, Universitat Autonoma de Barcelona, 1996
Professional Interests
Life is information. Information is processed both during an organism life-time and across generations by natural selection. In fact, life is probably the most complex information processing system ever created. As Robert Robbins put it, the DNA sequence (i.e code) of an organism is "the result of literally millions of maintenance revisions performed by the worst possible set of kludge–using, spaghetti–coding, opportunistic hackers (i.e. evolution) who delight in clever tricks like writing self–modifying code and relying upon undocumented system quirks". As a result, deciphering molecular biology is the ultimate dream of a computer scientist.
One of the hardest problems of current genomics lies in the identification and modeling of the promoter regions and transcription factor binding sites that regulate gene expression. Life, it turns out, discovered RISC systems way before computer scientists did and prefers to operate with small but versatile instruction repertoire (i.e. genes) finely tuned by complex cross-regulatory interactions. Rather than being junk-DNA, as they were first labeled, it turns out that the main differences between organisms reside not on their genetic repertoire, but on the intergenic regions that regulate gene expression.
Even though probably good for life, the complexity of intergenic regions is exciting but dire news for those trying to understand them. The large alphabet of possible transcription factors, their loose nature and their seemingly haphazard organization make modeling of these regions an extremely hard task for which conventional methods, relying heavily on statistics and rigid heuristics, are ill suited. The approach I champion lies in the use of nature-inspired tools to tackle the problem of promoter modeling and identification, using few a priori assumptions and a flexible frame to accommodate the diversity of natural promoters. By applying a soft-computing approach that combines neural networks, fuzzy logic, genetic algorithms and swarm theory coupled with traditional information theory methods, I aim at making some sense of the apparent complexity of promoters and at testing model predictions in-vivo to validate the strength of the model.
Robbins, R. J., 1992. Challenges in the human genome project. IEEE Engineering in Biology and Medicine, (March 1992):25–34.
Publications
Sanchez-Alberola, N; Campoy, S; Barbé, J; Erill, I. "Analysis of the SOS response of Vibrio and other bacteria with multiple chromosomes", BMC Genomics, 13:58, (2012).
[Abstract] [PDF]
Cambray, N. Sanchez-Alberola, S. Campoy, E. Guerin, S. Da Re, B. Gonzales-Zorn, M.C. Ploy, J. Barbé, D. Mazel, I. Erill- "Prevalence of SOS-mediated control of integron integrase expression as an adaptive trait of chromosomal and mobile integrons", Mobile DNA. 2011; 2(6-1)
[Abstract] [PDF]
Bhargava, N; Erill, I. "xFITOM: a generic GUI tool to search for transcription factor binding sites", Bioinformation. 01/2010; 5(2):49-51.
[Abstract] [PDF]
Fox, J. M; Erill, I. "Relative Codon Adaptation: A Generic Codon Bias Index for Prediction of Gene Expression", DNA Research, doi:10.1093/dnares/dsq012
[Abstract] [Text] [PDF]
Hessheimer, A. J; Parramon, D; Guimera, A; Erill, I; Rimola, A; Garcia-Valdecasas, J. C; Villa, R; Fondevila, C. "A rapid and reliable means of assessing hepatic steatosis in vivo via electrical bioimpedance", Transplantation, 88(5), 716-722, (2009).
[Abstract] [PDF]
Guerin, E.; Cambray, G.; Sanchez-Alberola, N.; Campoy, S.; Erill, I.; Da Re, S.; Gonzalez-Zorn, B.; Barbe, J.; Ploy, M.-C.; Mazel, D. The SOS Response Controls Integron Recombination (2009) Science, 324, 1034.
[Abstract] [Text] [PDF]
Erill, I; O'Neill, M.C. A reexamination of information theory-based methods for DNA-binding site identification. BMC Bioinformatics. 2009 Feb 11;10(1):57.
[Abstract] [Text] [PDF]
Abella, M; Campoy, S; Erill, I; Rojo, F; Barbé, J. "Cohabitation of two different lexA regulons in 
Pseudomonas putida
", 
Journal of Bacteriology
, 189, 8855-8862, (2007).
[
Abstract
]
Erill, I; Campoy, S; Barbé, J. "Aeons of distress: an evolutionary perspective on the bacterial SOS response", FEMS Microbiology Reviews, 31, 637-656, (2007).
[Abstract]
Parramon, D; Erill, I; Guimerà, A; Ivorra, A; Muñoz, A; Sola, A; Fondevila, C; Garcia-Valdecasas, J. C; Villa, R. "In vivo detection of liver steatosis in rats based on impedance spectroscopy", Physiological Measurement, 28, 813-828, (2007).
[Abstract]
Campoy, S; Hervàs, A; Busquets, N; Erill, I; Teixidó, L; Barbé, J. "Induction of the SOS response by bacteriophage lytic development in Salmonella enterica", Virology, 351, 360-367, 2006.
[Abstract]
Mazon, G; Campoy, S; Erill, I; Barbe, J; Identification of the Acidobacterium capsulatum LexA box reveals a lateral acquisition of the Alphaproteobacteria lexA gene. Microbiology, 152, 1109-1118, (2006).
[Abstract]
Gomez, R; Ivorra, A; Villa, R; Godignon, P; Millan, J; Erill, I; Sola, A; Hotter, G; Palacios, L; "A SiC microdevice for the minimally invasive monitoring of ischemia in living tissues", Biomedical Microdevices, 8, 43-49, (2006).
[Abstract]
Villa, R; Fondevila, C; Erill, I; Guimera, A; Bombuy, E; Gomez-Suarez, C; Sacristan, J. C; Garcia-Valdecasas, J. C; "Real-time direct measurement of human liver allograft temperature from recovery to transplantation",Transplantation, 81, 483-486, (2006).
[Abstract]
Erill, I; Campoy, S; Mazon, G; Barbe, J; "Dispersal and regulation of an adaptive mutagenesis cassette in the bacteria domain", Nucleic Acids Research, 10, 66-77, (2006).
[Abstract]
Campoy, S; Salvador, N; Cortés, P; Erill, I; Barbé, J; "Expression of canonical SOS genes is not under LexA repression in Bdellovibrio bacteriovorus", Journal of Bacteriology, 187, 5367-5375, (2005).
[Abstract]
Erill, I; Jara, M; Salvador, N; Escribano, M; Campoy, S; Barbe, J; "Differences in LexA regulon structure among Proteobacteria through in-vivo assisted comparative genomics", Nucleic Acids Research, 32, 6617-6626, (2004).
[Abstract]
Mazon, G; Erill, I; Campoy, S; Cortes, P; Forano, E; Barbe, J. "Reconstruction of the evolutionary history of the LexA-binding sequence", Microbiology, 150, 3783-3795, (2004).
[Abstract]
Abella, M; Erill, I; Jara, M; Mazón, G; Campoy, S; Barbé, J. "Widespread distribution of a lexA-regulated DNA damage-inducible multiple gene cassette in the Proteobacteria phylum", Molecular Microbiology, 54, 212-222, (2004).
[Abstract]
Erill, I; Escribano, M; Campoy, S; Barbé, J; "In silico analysis reveals substantial variability in the gene contents of the gamma proteobacteria LexA-regulon", Bioinformatics, 19, 2225- 2236, (2003).
[Abstract]
Fernández de Henestrosa, A. R; Cuñé, J; Erill, I; Magnuson, J. K; Barbé, J; "A Green Non-sulfur Bacterium,Dehalococcoides ethenogenes, with the LexA Binding Sequence Found in Gram-Positive Organisms", Journal of Bacteriology, 184, 6073–6080, (2002).
[Abstract]
Erill, I; Campoy, S; Rus, J; Fonseca, L; Ivorra, A; Navarro, Z; Plaza, J. A; Aguiló, J; Barbé, J. "Development of a CMOS-compatible PCR chip: comparison of design and system strategies", Journal of Micromechanics and Microengineering, 14, 1558-1568, (2004).
[Abstract]
Erill, I; Campoy, S; Erill, N; Barbé, J; Aguiló, J; "Biochemical analysis and optimization of inhibition and adsorption phenomena in glass–silicon PCR-chips", Sensors and Actuators B: Chemical, 96, 685-692, (2003).
[Abstract]
Erill, I.; Villa, R.; Goudignon, P.; Fonseca, L.; Plaza, J. A.; "Silicon Microsystem Passivation for High Voltage Applications in DNA Chips", Microelectronics and Reliability, 40, 787-789, (2000).
[Abstract]
Courses Taught
BIOL 101: Concepts of Biology