Research Assistant Professor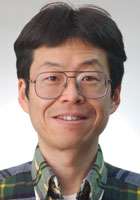 | | |
| --- | --- |
| Office: | BS 211 |
| Phone: | 410-455-8674 |
| Lab: | BS 207/209 |
| Lab Phone: | 410-455-3295 |
| Email: | tatsuya@umbc.edu |
Education
Postdoctoral, Colorado State University, 2000
Ph.D., Teikyo University School of Medicine, Tokyo, Japan, 1993
Professional Interests
Taste signal transduction mechanisms and modulation
Taste sensation is critical for intake of nutritious foods and avoidance of toxic substances.
We have been studying how taste receptor cells transduce chemical information of taste substances into intracellular signals including Ca2+ levels (Fig. 1) and ionic currents.
Sensitivity of taste is influenced by body mass, nutritional condition, hormonal levels, medication etc.  Our current working hypothesis is that a neurotransmitter acetylcholine modulates taste responses in taste buds.  We are using Ca2+ imaging, immunohistochemistry and electrophysiological techniques with normal and genetically modified mice for this study.  We have found that taste receptor cells increase Ca2+ levels in response to acetylcholine (ACh, Fig. 2) via activating muscarinic acetylcholine receptors.  Since our data indicate that both responses to bitter substances and acetylcholine share the similar signal transduction pathway in the taste cells, acetylcholine could interact with bitter taste response resulting in modulation of taste.  Currently, we are working on the source of acetylcholine and identifying the subtype of acetylcholine receptors involved.
Publications
Steven A. Szebenyi, Tatsuya Ogura, Aaron Sathyanesan, Abdullah K. AlMatrouk, Justin Changand Weihong Lin (2014) Increases in intracellular calcium via activation of potentially multiple phospholipase C isozymes in mouse olfactory neurons. Front. Cell Neurosci. Doi: 10:3389/fncel.2014.00336. [Abstract]
Krosnowski K, Ashby S, Sathyanesan A, Luo W, Ogura T, Lin W. Diverse populations of intrinsic cholinergic interneurons in the mouse olfactory bulb. Neuroscience. 2012 Apr 20. [Epub ahead of print]
[Abstract]
Sathyanesan A, Ogura T, Lin W. Automated measurement of nerve fiber density using line intensity scan analysis
Journal of Neuroscience Methods, Volume 206, Issue 2, 15 May 2012, Pages 165-175
[Abstract]
Ogura T, Szebenyi SA, Krosnowski K, Sathyanesan A, Jackson J, Lin W. (2011) Cholinergic microvillous cells in the mouse main olfactory epithelium and effect of acetylcholine on olfactory sensory neurons and supporting cells.  J Neurophysiol. Sep;106(3):1274-87. Jun 15. [Epub ahead of print]
[Abstract]
Ogura T, Krosnowski K, Zhang L, Bekkerman M, Lin W (2010) Chemoreception Regulates Chemical Access to Mouse Vomeronasal Organ: Role of Solitary Chemosensory Cells. PLoS ONE 5(7): e11924
[PDF]
Ikenaga T, Ogura T, Finger E.  Vagal Gustatory Reflex Circuits for Intraoral Food Sorting Behavior in the Goldfish: Cellular Organization and Neurotransmitters. J Comp Neurol, (2009) 516:213–225.
[Abstract]
Lin W, Ogura T, Margolskee RF, Finger TE, Restrepo D. TRPM5-expressing solitary chemosensory cells respond to odorous irritants. J Neurophysiol. (2008) 99(3):1451-60.
[Abstract]
Ogura T, Margolskee RF, Tallini YN, Shui B, Kotlikoff MI, Lin W.
Immuno-localization of vesicular acetylcholine transporter in mouse taste cells and adjacent nerve fibers: indication of acetylcholine release. Cell Tissue Res. (2007) Oct;330(1):17-28. Epub 2007 Aug 18.
[Abstract]
Kataoka S, Toyono T, Seta Y, Ogura T, Toyoshima K. Expression of P2Y1 receptors in rat taste buds.  Histochem. Cell Biol. (2004) 121:419-426.
Warashina A, Ogura T . Modeling of stimulation-secretion coupling in a chromaffin cell. Pfluger Arch Eur J Physiol.(2004) 448:161-174
[Abstract]
Pérez CA, Margolskee RF, Kinnamon SC, Ogura T. (2003) Making sense with TRP channels: Store-operated calcium entry and the ion channel Trpm5 in taste receptor cells.  Cell Calcium 33:541-549.
[Abstract]
Lin W, Ogura T, Kinnamon SC. Responses to di-sodium guanosine 5'-monophosphate and monosodium L-glutamate in taste receptor cells of rat fungiform papillae. J. Neurophysiol. (2003) 89:1434-1439.
[Abstract]
Lin W, Ogura T, Kinnamon SC. Acid-activated cation currents in rat vallate taste receptor cells.  J. Neurophysiol.(2002) 88:133-141
[Abstract]
Ogura T, Margolskee RF, Kinnamon SC. Taste receptor cell responses to the bitter stimulus denatonium involve Ca2+ influx via store-operated channels.  J. Neurophysiol. (2002) 87:3152-3155
[Abstract]
Ogura T. Acetylcholine increases intracellular Ca2+ in taste cells via activation of muscarinic receptors. J. Neurophysiol. (2002) 87:2643-2649
[Abstract]
Ogura T, Kinnamon SC (1999) IP3-independent release of Ca2+ from intracellular stores: A novel mechanism for transduction for bitter stimuli.  J Neurophys, 82, 2657-2666.
[Abstract]
Nakai J, Ogura T, Protasi F, Franzini-Armstrong C, Allen PD, Beam KG. (1997) Functional nonequality of the cardiac and skeletal ryanodine receptors.  Proc Natl Acad Sci USA, 94, 1019-1022.
[Abstract]
Ogura T, Mackay-Sim A, Kinnamon SC (1997) Bitter taste transduction of denatonium in the mudpuppy, Necturus maculosus.  J Neurosci, 17 (10) 3580-3587.
[Abstract]