Professor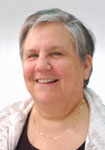 Office:
BS 470
Phone:
410-455-2977
Lab:
BS 273/274
Lab Phone:
410-455-3169
410-455-3383
Email:
probinso@umbc.edu
Education
Postdoctoral Fellow, Brandeis University, 1992
Ph.D., University of Wisconsin, 1981
Professional Interests
The aim of my research is to understand how information in the environment is transformed into an appropriate biological signal. I study this problem of signal transduction in photoreceptors for they are accessible to a variety of techniques, providing a system in which it is possible to interface the approaches of biochemistry, molecular biology and physiology.
One interest of my laboratory is to elucidate the mechanisms of activation and deactivation of vertebrate visual pigments. Our approach is to use the tools of molecular biology in concert with in vitro biochemistry to explore the details of these mechanisms. At present we are focusing on the role of phosphorylation in the inactivation of the rod specific visual pigment, rhodopsin.
A second interest of my laboratory is the evolution of color vision in aquatic mammals and mechanisms of spectral tuning in color opsins. We have recently discovered that cetaceans do not have dichromatic color vision that is typically found in diurnal terrestrial mammals. We are currently investigating the role of color vision in pinnipeds and manatees.
Publications
Walker MT, Brown RL, Cronin TW, and Robinson PR. 2008. Photochemistry of retinal chromophore in mouse melanopsin. Proc Natl Acad Sci USA 105:8861-8865.
[Abstract] [Text] [PDF]
Nickle B and Robinson PR.  (2007).  The opsins of the vertebrate retina: insights from structural, biochemical, and evolutionary studies.  Cell Mol. Life Sci. Epub ahead of print.
[Abstract]
Newman, LA and Robinson, PR.  (2006) The visual pigments of the West Indian manatee (Trichechus manatus).  Vision Res. 46:3326-3330.
[Abstract]
Nickle B, Wilkie SE, Cowing JA, Hunt DM, and Robinson PR.  (2006).  Vertebrate opsins belonging to different classes vary in constitutively active properties resulting from salt-bridge mutations.  Biochemistry 45:7307-7313.
[Abstract]
Ascano MT, Smith WC, Gregurick SK and Robinson PR.  (2006).  Arrestin residues involved in the functional binding of arrestin to phosphorylated, photolyzed rhodopsin.  Mol. Vis. 12:1516-1525.
[Abstract]
Spady TC, Parry JW, Robinson PR, Hunt DM, Bowmaker JK and Carleton KL.  (2006).  Evolution of the cichlid visual palette through ontogenetic subfunctionalization of the opsin gene arrays.  Mol. Biol. Evol. 23:1538-1547.
[Abstract]
Ascano MT, Smith WC, Gregurick SK and Robinson PR.  (2006).  Arrestin residues involved in the functional binding of arrestin to phosphorylated, photolyzed rhodopsin.  Mol. Vis. 12:1516-1525.
[Abstract]
Courses Taught
BIOL 451: Neurobiology