Have you tried SI PASS?
BIOL, MATH, ECON, CHEM, PHYS: Study Sessions for your Class
November 6, 2018 12:01 PM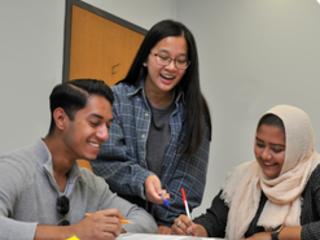 We know that some courses are more difficult than others, and so students who have done well in the class previously  lead weekly study sessions.
Have you tried SI?
Look for your class and plan to attend each week. 
BIOL 141
Meet your SI PASS Leaders, Donna and Shukran
Mondays from 2:00 to 2:50 p.m. in SHER 121 (Shukran)
Tuesdays from 4:00 to 4:50 p.m. in MP 008 (Donna)
Thursdays from 6:00 to 6:50 p.m. in SOND 101 (Adnan)
Fridays from 11:00 to 11:50 a.m. in SHER 110 (Shukran)
BIOL 142
Meet your SI PASS Leader, Olivia
Mondays from 6:00 to 6:50 p.m. in SOND 207 (Olivia)
Thursdays from 3:00 to 3:50 p.m. in SOND 207 (Olivia)
BIOL 302
Meet your SI PASS Leaders, Carl and Michaela
Tuesdays from 3:00 to 3:50 p.m. in ITE 241 (Michaela)
Wednesdays from 3:00 to 3:50 p.m. in SOND 101 (Carl)
Thursdays from 3:00 to 3:50 p.m. in ITE 241 (Michaela)
Fridays from 2:00 to 2:50 p.m. in TBA (Carl)
BIOL 303
Meet your SI PASS Leader, Zayd
Mondays from 5:30 to 6:20 p.m. in SHER 107 (Zayd)
Wednesdays from 5:30 to 6:20 p.m. in SHER 107 (Zayd)
CHEM 101
Meet your SI PASS Leaders, Franklin, Nguyet and Lauren
Mondays from 6:00 to 6:50 p.m. in SOND 409 (Franklin)
Tuesdays from 9:00 to 9:50 a.m. in SOND 409 (Nguyet)
Tuesdays from 6:00 to 6:50 p.m. in SOND 114 (Lauren)
Wednesdays from 2:30 to 3:20 p.m. in SOND 409 (Franklin)
Thursdays from 9:00 to 9:50 a.m. in SOND 409 (Nguyet)
Fridays from 2:00 to 2:50 p.m. in SOND 111 (Lauren)
CHEM 102
Meet your SI PASS Leaders, Min and Adnan
Mondays from 3:00 to 3:50 p.m. in SOND 202 (Min)
Tuesdays from 12:00 to 12:50 p.m. in SHER 011 (Adnan)
Thursdays from 12:00 to 12:50 p.m. in SHER 011 (Adnan)
Fridays from 10:00 to 10:50 a.m. in SHER 121 (Min)
CHEM 123
Meet your SI PASS Leaders, Jocelyn and Han
Mondays from 6:00 to 6:50 p.m. in SOND 209 (Han)
Wednesdays from 12:00 to 12:50 p.m. in SHER 121 (Jocelyn)
Wednesdays from 2:30 to 3:20 p.m. in SOND 205 (Han)
Fridays from 10:00 to 10:50 a.m. in ENGR 122 (Jocelyn)
CHEM 351
Meet your SI PASS Leaders, Celeste and Sai
Mondays from 5:00 to 5:50 p.m. in SHER 150???(Sai)
Tuesdays from 5:00 to 5:50 p.m. in SHER 007??? (Celeste)
Thursdays from 5:00 to 5:50 p.m. in SHER 007??? (Celeste)
Fridays from 1:00 to 1:50 p.m. in SHER 150??? (Sai)
ECON 121
Meet your SI PASS Leaders, Steven and Konstantin
Tuesdays from 1:00 to 1:50 p.m. in SHER 109(Konstantin)
Wednesdays from 11:30 a.m. to 12:20 p.m. in SHER 208(Steven)
Wednesdays from 6:00 to 6:50 p.m. in PHYS 201(Konstantin)
Fridays from 11:00 to 11:50 a.m. in SHER 109 (Steven)
ECON 122
Meet your SI PASS Leader, Kunal
Mondays from 3:00 to 3:50 p.m. in SHER 121 (Kunal)
Wednesdays from 3:00 to 3:50 p.m. in SHER 121 (Kunal)
MATH 150
Meet your SI PASS Leaders, Raj Patel and Terri
Tuesdays from 3:00 to 3:50 p.m. in SHER 109(Terri)
Wednesdays from 11:00 a.m. to 11:50 a.m. in SHER 121(Raj)
Thursdays from 3:00 to 3:50 p.m. in SHER 109(Terri)
Fridays from 11:00 to 11:50 a.m. in SHER 121 (Raj)
MATH 151
Meet your SI PASS Leaders, Tara and Rebecca
Mondays from 3:00 to 3:50 p.m. in SHER 110(Tara)
Tuesdays from 11:30 a.m. to 12:20 p.m. in SHER 110(Rebecca)
Thursdays from 11:30 a.m. to 12:20 p.m. in SHER 110(Rebecca)
Fridays from 3:00 to 3:50 p.m. in SHER 110(Tara)
MATH 155
Meet your SI PASS Leaders, Mike and Kevin
Mondays from 1:00 to 1:50 p.m. in SHER 121 (Mike)
Wednesdays from 11:00 to 11:50 a.m. in ITE 237 (Kevin)
Wednesdays from 1:00 to 1:50 p.m. in SHER 121 (Mike)
Fridays from 11:00 to 11:50 a.m. in ITE 237 (Kevin)
PHYS 111
Meet your SI PASS Leaders, Sarah and Asfand
Mondays from 2:30 to 3:20 p.m. in SHER 109 (Asfand)
Wednesdays from 12:00 to 12:50 p.m. in SHER 109 (Sarah)
Wednesdays from 2:30 to 3:20 p.m. in SHER 109 (Asfand)
Thursdays from 12:00 to 12:50 p.m. in SHER 109 (Sarah)
PHYS 112
Meet your SI PASS Leader, Irene
Thursdays from 5:00 to 5:50 p.m. in SOND 111 (Irene)
Fridays from 11:00 to 11:50 a.m. in SOND 111 (Irene)
PHYS 121
Meet your SI PASS Leaders, Judy and Edwin
Mondays from 10:00 to 10:50 a.m. in ENGR 122 (Edwin)
Mondays from 6:00 to 6:50 p.m. in SHER 145 (Judy)
Wednesdays from 10:00 to 10:50 a.m. in ENGR 122 (Edwin)
Wednesdays from 6:00 to 6:50 p.m. in SHER 145 (Judy)
PHYS 122
Meet your SI PASS Leader, Simon
Mondays from 10:00 to 10:50 a.m. in SOND 109 (Simon)
Wednesdays from 10:00 to 10:50 a.m. in SOND 109 (Simon)