Associate Professor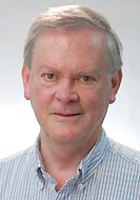 Education
Postdoctoral, Institute for Cancer Research, 1970
Ph.D., University of Pennsylvania, 1967
B.A., Reed College, 1963
Professional Interests
My laboratory is analyzing the biochemical and molecular mechanism of the processing of precursor ribosomal RNA as an example of the regulation of gene expression in eukaryotic cells. Ribosomal RNA is initially made in mouse cells as a large 14,000 nucleotide precursor which is subsequently cleaved at specific locations to generate the mature 18S, 28S, and 5.8S rRNA components of the functional ribosome. Very little is known about the mechanism of this processing and its regulation. We have developed an in vitro cell-free processing system from mouse tissue culture cells and are using the techniques of molecular biology to study the following questions:
1)  What are the nucleic acid sequences and structures that
specify  the location and efficiency of the processing?
2)  What are the enzymes and other components required for processing?
3)  How is the efficiency of the processing regulated?
4)  How does this regulation relate to the known in vivo regulation of the production of ribosomes in intact cells?
Publications
Eichler, D.C., and N. Craig. 1994. Processing of eukaryotic ribosomal RNA. Progress in Nucleic Acid and Molecular Biology,49:197-239
Craig, N., S. Kass, and B. Sollner-Webb. 1991. Sequence Organization and RNA structural motifs directing the mouse primary rRNA processing event. Molecular and Cellular Biology, 11 :458-467.
Kass, S., N. Craig, and B. Sollner-Webb. 1987. The primary processing of mammalian rRNA involves two adjacent cleavages and is not species specific. Molecular and Cellular Biology, 7 :2891-2898.
Craig, N., S. Kass, and B. Sollner-Webb. 1987. Nucleotide sequence determining the first cleavage site in the processing of mouse precursor ribosomal RNA. Proc. Nat'l. Acad. Sci. USA, 84 :629-633.
Courses Taught
BIOL 303: Cell Biology
BIOL 418: Human Molecular Biology
BIOL 426: Approaches to Molecular Biology
BIOL 420: Advanced Topics in Cell Biology
BIOL 497H: Honors Thesis
BIOL 499: Undergraduate Laboratory/Field Research
BIOL 499H: Undergraduate Laboratory/Field Research
BIOL 620: Advanced Topics in Cell Biology