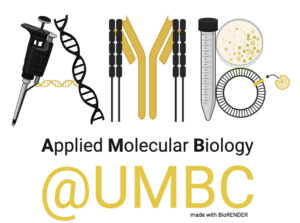 One degree, three different options to earn it.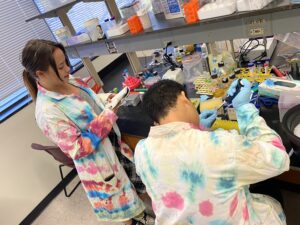 The hallmark of the Applied Molecular Biology program is a two-semester, seven-credit laboratory course that teaches students the state-of-the-art techniques of molecular biology in the context of an independent research project. In addition, the students take four lecture courses and prepare a scholarly paper on their research project. UMBC undergraduates may count up to twelve credits, i.e., three of the lecture courses, toward both degrees. The program not only prepares its graduates to become middle-level researchers in the biotechnology industry, but it also provides excellent training for students intending to enter a Ph.D. program after graduation. Shown below is a breakdown of what AMB MS students have done with their degree.
Research and Program Specialties
Biotechnology remains a major growth industry. Professionals trained to use the tools of modern molecular biology are in great demand. Much of this demand is for master's level graduates who have the theoretical knowledge and laboratory expertise to carry out research projects. To meet the need for this kind of science professional, the M.S. program in Applied Molecular Biology was established at UMBC in 1981. The program complements existing M.S. and Ph.D. programs and takes advantage of vigorous, ongoing research programs in molecular biology and related areas at UMBC.
Facilities and Special Resources
The two-semester Advanced Molecular Biology Laboratory course is taught in the Applied Molecular Biology Laboratory, a laboratory facility dedicated to students in the program and contains all of the equipment necessary for conducting research in molecular biology. Students also have access to research facilities in the Biological Sciences.
Program Admissions
At a minimum, applicants must have a grade point average of 3.0 and a B.A or B.S. in biological sciences. International applicants must have a TOEFL 80 or higher, or IELTS 7 or higher. Enrollment in the program is limited to 12 students per year. Students are encouraged to apply early in the spring semester, because admission decisions are made on a rolling basis. You may apply with unofficial documents, if accepted all original application documents must be sent directly to the Graduate School.
Degree Requirements 
Listed below are the courses to fulfill the 30 credit requirement
BIOL 430 – Biological Chemistry
BIOL 626 – Approaches to Molecular Biology
BIOL 635L – Advanced Molecular Biology Laboratory I
BIOL 614 – Eukaryotic Genetics & Molecular Biology
BIOL 612 – Microbial Systems and Synthetic Biology
BIOL 636L – Advanced Molecular Biology Laboratory II
The requirement for BIOL 430 may be waived for students who have already taken a comparable course in biochemistry and received a grade of B or better. Since all M.S. degrees awarded by the Graduate School require a minimum of 30 credits, three replacement credits may be earned by conducting additional research (APMB 695) during the January winter session or by substituting an elective course approved by the Graduate Program Director.
The different options
The BIOL BS/MS Accelerated Program is for UMBC Biology undergraduates who want to double count credits for their BIOL BS and a Master's in Applied Molecular Biology. The following courses are eligible for transfer, for a total of twelve credits counting toward the MS degree: BIOL 430 (or CHEM 437), BIOL 426, BIOL 412, and BIOL 414.  Depending on which of these courses the student has taken as an undergraduate will determine what other lecture-based courses are needed.  BIOL 635L and BIOL 636L are required for all MS students, spring and fall respectively.
The full-time, one year accelerated master's Program requires students to take BIOL 430, BIOL 626, and BIOL 635L the first semester and BIOL 612, BIOL 614, and BIOL 636L the second semester and graduate in May.
There is also a part-time, two-year option.  In this scenario, students take BIOL 430 and BIOL 626 in the first semester; BIOL 612 and BIOL 614 in the second semester, all in the first year of the program.  In the second year of the program students enroll in BIOL 635L and 636L the first and second semester, respectively and graduate in May.
Financial Assistance
Applicants should contact the Office of Financial Aid at UMBC if they wish to explore sources of financial aid. Students may be eligible for student loan programs. Halftime teaching assistantships in a given semester may be available for students with a reduced course load that semester, for example, because the course was previously completed at UMBC. Contact the graduate program director for information.
For More Information                                     
 Visit: https://gradschool.umbc.edu/admissions/programs/apmb/
Details about how to enroll, declare intentions junior year, Apply?
Apply now!
Contact:
Brandy Darcey
Graduate Program coordinator
410-455-3669
bdarcey@umbc.edu
Cynthia Wagner
AMB program director
410-455-1024
cwagner@umbc.edu
Michelle Starz-Gaiano, Ph.D.
Graduate Program Director
410-455-2217
starz@umbc.edu