Undergraduate research is one of the most exciting and rewarding opportunities for UMBC students.  Students can work closely with faculty mentors on a wide range of research topics, including cell biology, neurobiology, genetics, evolution and animal behavior.  Undergraduate students who do well at research have the opportunity to apply for research funding, to be co-authors on publications, and to present their findings at local and national conferences.
UMBC – Research Grounded In Mentorship from The College Tour on Vimeo.
Biology majors looking to participate in independent research could receive credit towards their degree. Biological Sciences B.S. students may use two semesters of BIOL 499, plus one semester of either BIOL 499L or BIOL 497H as one of their Upper Level Laboratory Electives. Biological Sciences B.A. student may use BIOL 499 towards the 45 Upper Level Credits needed for graduation (it cannot be used as a B.A. major requirement). Students interested in research should speak with their advisor and reach out to any faculty members they are interested in working with. Faculty research areas can be found on the Faculty Directory or Research topics pages of this site. Student performing independent research for more than three semesters should consider the Departmental Honors program.
Students looking for a research or internship experience outside the Department of Biological Sciences should speak to their advisor; the Career Center; or Dr. Kevin Omland, course coordinator about BIOL 398: Co-op Internship in the Biological Sciences. BIOL 398 cannot be used towards biology major requirements, but the credits can count towards the 45 upper level credits needed for graduation. Dr. Omland will provide students with the BIOL 398 requirements.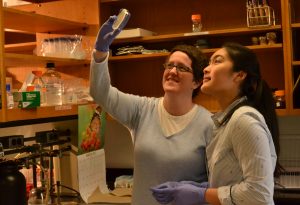 The Office of Undergraduate Research provides information on the many research opportunities provided by UMBC and beyond. They also have an extensive list of summer undergraduate research opportunities for undergraduates, many funded. Most students who participate in independent research present at local, regional, and national conferences, including UMBC's Undergraduate Research and Creative Achievement Day (URCAD) in April and CNMS Summer Undergraduate Research Fest (SURF) in August.
The Department sponsors and/or supports a number of undergraduate-focused research initiatives, including:
Undergraduate Research Training Initiative for Student Enhancement Program (U-RISE at UMBC), funded by the National Institute of General Medical Sciences, NIH (formerly MARC U*STAR)
STEM BUILD Training Program (BTP), funded by the National Institute of Health
Undergraduate Research Awards (URA), sponsored by the Office of Undergraduate
Research International Research Experience for Students (IRES) project on conservation biology in The Bahamas, funded by NSF