Linda Wiratan Lands Prestigious Internship at Harvard!
Wiratan will research intercellular RNAi transport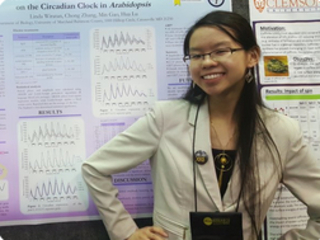 URA Scholar and recently selected Goldwater Scholar, Linda Wiratan adds another prestigious award to her resume... she will be participating in a 10-week research internship at Harvard University in the Molecules, Cells, and Organisms department. The internship is managed through the Leadership Alliance, a national organization promoting diversity among students planing to pursue Ph.Ds. 



Linda will be interning in the Hunter lab, with Dr. 
Craig P. Hunter, 
Professor of Molecular and Cellular Biology. She
 will be researching proteins involved in intercellular RNAi transport, which is responsible for organism-wide gene silencing and could potentially reveal the ability for parental adaptations to local environments to be inherited.
To read more about Linda in the UMBC News, see: 
Congratulations, Linda, and good luck this summer!
(Photo: Linda presenting her research at URCAD 2018)