Professor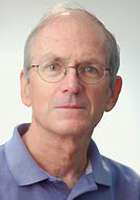 | | |
| --- | --- |
| Office: | BS 472 |
| Phone: | 410-455-3449 |
| Lab: | BS 107-109/112/113 |
| Lab Phone: | 410-455-2975 |
| Email: | cronin@umbc.edu |
Education
Postdoctoral, Yale University, 1983
PhD, Duke University, 1979
MS, Duke University, 1969
SciB, Dickinson College, 1967
Professional Interests
We study the visual physiology of invertebrates, especially of marine and estuarine crustaceans. Most of my recent work has been with the mantis shrimps, or stomatopods, a unique group of tropical crustaceans that have extremely complicated behavior and perhaps the most unusual eyes ever evolved. I am working with their color vision systems (they have up to 16 spectral channels), their photic environments, their systems of color communication, the dynamics of their photoreceptor cells, and their ocular movements and control systems.  In recent years, we have initiated a study of the molecular genetics of their opsins, the proteins that underlie the detection of light.  We want to learn how the photoreceptors evolved and how their visual proteins are specialized for color vision and for seeing the polarized-light signals that many species of mantis shrimps produce.
Members of my research group are also concerned with how animals have the animals with which we share the world have evolved visual systems specialized for their environmental and ecological requirements.  Our lab motto is "If it has eyes, we can study it!"  In the last 10 years, we have published papers on vision in squids, butterflies, fiddler crabs, cuttlefish, primates, dolphins, orioles, reef fishes, sponges, poison-dart frogs, fireflies, octopus, deep-sea crabs, whooping cranes, and (of course) mantis shrimp, and the list goes on . . .
See the wonderful blog on arthropods maintained by my graduate student, Mike Bok (http://arthropoda.southernfriedscience.com/).
Publications
A. Siddiqi, T.W. Cronin, E.R. Loew, M. Vorobyev, and K. Summers.  2004.  Interspecific and intraspecific views of color signals in the strawberry poison frog, Dendrobates pumilio.  J. Exp. Biol. 207:2471-2485.
[Abstract]
C.H. Mazel, T.W. Cronin, R.L. Caldwell, and J. Marshall.  2004. Fluorescent enhancement of signaling in a mantis shrimp.  Science 303:51.
[Abstract]
A.G. Cheroske and T. W. Cronin. 2005. Variation in stomatopod (Gonodactylus smithii) color signal design associated with organismal condition and depth. Brain, Behavior and Evolution 66:99-113.
[Abstract]
T.W. Cronin, M.R. Kinloch, and G.H. Olsen. 2005.  Head-bobbing behavior in foraging whooping cranes favors visual fixation. Current Biology 15:R243-R244.
[Abstract]
C.M. Hofmann, T.W. Cronin, and K.E. Omland. 2006. Using spectral data to reconstruct evolutionary changes in coloration: carotenoid color evolution in New World orioles. Evolution 60:1680-1691.
[PDF]
T.W. Cronin.  2006.  Invertebrate vision in water.  In:  Invertebrate Vision (E. Warrant and D.E. Nilsson, eds).  Cambridge University Press, Cambridge UK, pp. 211-249.
T.W. Cronin, E.J. Warrant, and B. Greiner.  2006.  Celestial polarization patterns during twilight. Applied Optics 45:5582-5589.
[Abstract]
J.M. Douglas, T.W. Cronin, Tsyr-Huei Chiou, and Nathaniel J. Dominy.  2007. Light habitats and the role of polarized iridescence in the sensory ecology of Neotropical nymphalid butterflies (Lepidoptera: Nymphalidae).  Journal of Experimental Biology 210: 788-799.
[Abstract]
J.M. Jordão, T.W. Cronin, and R.F. Oliveira. 2007. Spectral sensitivity of four species of fiddler crabs (Uca pugnax, Uca pugilator, Uca vomeris and Uca tangeri) measured by in situ microspectrophotometry. Journal of Experimental Biology 210:447-453.
[Abstract]
T.-H. Chiou, L.M. Mathger, R.T. Hanlon, and T.W. Cronin. 2007.  Spectral and spatial  properties of polarized light reflections from the arms of squid  (Loligo pealeii) and cuttlefish (Sepia officinalis L.).  Journal of Experimental Biology  210:3624-3635.
[Abstract]
T.W. Cronin and M.L. Porter. 2008. Exceptional variation on a common theme: The evolution of crustacean compound eyes. Evolution: Education and Outreach 1:463-475.
[PDF]
T.W. Cronin. 2008. Visual ecology.  In: The Senses: A Comprehensive Reference.  Vision I, Volume 1 (eds. R. Masland and T.D. Albright).  Academic Press, San Diego.  pp. 211-246.
T.-H. Chiou, S. Kleinlogel, T.W. Cronin, R.L. Calwell, B. Lofle, A. Siddiqi, A. Goldizen and J. Marshall.  2008.  Circular polarisation vision in a stomatopod crustacean.  Current  Biology 18:429-434.
[Abstract]
C.M. Hofmann, K.E. O'Quin, N.J. Marshall, T.W. Cronin, O. Seehausen, and K.L. Carleton. 2009. The eyes have it: regulatory and structural changes both underlie cichlid visual pigment diversity. PLoS Biology 7:1-13.
[PDF]
N.W. Roberts, T.-H. Chiou, N.J. Marshall, and T.W. Cronin. 2009. A biological quarter-wave retarder with excellent achromaticity in the visible wavelength region. Nature Photonics 3, 641-644.
[PDF]
A.G. Cheroske,T.W. Cronin, M.K. Durham and R.L. Caldwell. 2009. Adaptive signalling behaviour in stomatopods under varying light conditions.   Marine & Freshwater Behaviour & Physiology 42:219-232.
[PDF]
M.L. Porter, M. Bok, P.R. Robinson, and T.W. Cronin. 2009. Molecular diversity of visual pigments in Stomatopoda (Crustacea). Visual Neuroscience 26: 255-266.
[PDF]
T.M. Frank, M. Porter, and T.W. Cronin. 2009. Spectral sensitivity, visual pigments and screening pigments in two life history stages of the ontogenetic migrator Gnathophausia ingens.  Journal of Marine Biology of the U.K. 89:119-129.
[Abstract]
T.W. Cronin. 2010. Polarized-light vision in land and aquatic animals. Encyclopedia of the Eye, vol. 3 (Darlene A. Dartt, editor). Oxford: Academic Press, pp. 461-468.
B.E. Dalton, T.W. Cronin, N.J. Marshall, and K. Carleton. 2010. The fish eye view: Are cichlids conspicuous? Journal of Experimental Biology 213: 2243-2255.
[PDF]
A.B. Lall, M.V.A. Järvilehto, T.W. Cronin, A.A. Carvalho, J.M. de Souza, M.P. Barros, C.V. Stevani, E.J.H. Bechara, D.F. Ventura, V.R. Viviani, and A.A. Hill. 2010. Vision in click beetles (Coleoptera: Elateridae): Pigments and spectral correspondence between visual sensitivity and species bioluminescence emission.  Journal of Comparative Physiology A 196: 629-638.
[PDF]
T.W. Cronin, M.L. Porter, M.J. Bok, J.B. Wolf, and P.R. Robinson.  2010.  The molecular genetics and evolution of colour and polarization vision in stomatopod crustaceans.   Ophthalmic and Physiological Optics 30: 460-469.
[Abstract]
Awards
Regents Award for Research
2005
University of Maryland Board of Regents
Graduate education award for excellence in teaching and dedicated service
2002
MEES Graduate Student Organization
AAAS Fellow
2002
AAAS