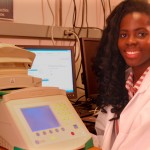 Q.  Describe your research project and its significance in 100 words or less.
A.  The main olfactory epithelium (MOE) detects environmental odors that are important for survival and transmits this information to the brain.  To protect the MOE from environmental toxicants and pathogenic bacteria, cellular mechanisms to detect these xenobiotics are critical.  However, data regarding such cellular mechanisms and the receptors involved are sparse.  We have previously reported that bacterial lysate and chemical irritants stimulate populations of non-neuronal cells that reside in the MOE (Ogura et al. J. Neurophysiology, 2011).  The main objective of this research project is to characterize the expression profile of potential receptors involved in xenobiotic detection in order to elucidate different biological pathways important to MOE protection and function.
Q.  How long have you been working on this project?
A.   I have been working in Dr. Lin's lab for over 2 years.  However, I have been working on this independent research project so far for two semesters.
Q.  What do you like most about doing research?
A.   I like that I can explore different interesting research questions.  I also enjoy knowing that the knowledge I gain from research will help further not only just the scientific community but can also be used to help society.
Q.  What do you like least about doing research?
A.  The most challenging part about research is when experiments fail or I receive unexpected results. However, it is very rewarding when I am able to get the experiments to work or the unexpected results lead to significant findings.
Q.  What are your career goals?
A.  I plan to pursue a PhD in Neuroscience.
Q.   What advice do you have for students who are trying to get into a research lab/group?
A.  I advise that students look for labs early in their academic career.  By getting involved in research early, students will have plenty of time to fully understand the research process, gain substantial research experience and possibly even complete an independent project.  I also advise that students meet with different faculty members in order to explore different research interests.