Associate Professor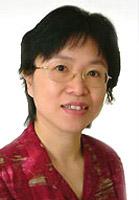 Office:
BS 211
Phone:
410-455-8674
Lab:
BS 207/209/215
Lab Phone:
410-455-2285
410-455-3295
Email:
weihong@umbc.edu
Education
Postdoctoral, Sensory Neurobiology, University of Colorado Health Sci. Ctr., 2004
Ph.D., Anatomy and Neurobiology, Colorado State University, 1999
Professional Interests
Chemical sensory systems detect a wide variety of chemicals in the external environment and provide sensory information that is essential for animals to identify food, predators and mates, and to avoid toxic environment.  We are interested in chemical sensations mediated by olfactory and trigeminal systems in the nose cavity.  We use a number of techniques, including electrophysiology, Ca2+ imaging, immunocytochemistry, molecular biology in normal and genetically modified mice to study sensory signal mechanisms in these two systems.
Pheromone signaling in the main olfactory system
The olfactory system is capable of detecting and discriminating thousands of airborne odorants and pheromones with exquisite sensitivity.  Pheromones are chemicals that are released from animals and act on members of the same species, stimulating hormonal changes and instinctive behaviors.  Recent studies have discovered pheromones can be detected by sensory neurons in both main and accessory olfactory systems in mice. We are particularly interested in pheromone signal processes in the main olfactory system.  We have found a new signaling component TRPM5, a transient receptor potential channel in a subset of olfactory sensory neurons.  We are now investigating functional roles of TRPM5 in signal transduction of pheromones and other biologically relevant odorants.
The trigeminal system also detects chemical stimuli. Unlike the olfactory system, stimulation of trigeminal system by irritants, including strong odorants triggers protective reflexes that include sneezing, coughing and changing in respiration.  Irritants can interact with trigeminal free nerve endings or solitary chemosensory cells, which then transmit sensory information onto the trigeminal nerve.  Using immunolabeling and transgenic mice, we found a large population of solitary chemosensory cells in both respiratory and olfactory epithelia expressing the TRPM5, indicating multiple roles of TRPM5 in chemical sensing.  Our initial study also indicated that some of the TRPM5-expressing cells respond to odorous irritants.  We are investigating chemical specificity, signal transduction mechanisms and modulations in these solitary chemosensory cells.
Publications
Steven A. Szebenyi, Tatsuya Ogura, Aaron Sathyanesan, Abdullah K. AlMatrouk, Justin Chang and Weihong Lin (2014) Increases in intracellular calcium via activation of potentially multiple phospholipase C isozymes in mouse olfactory neurons. Front. Cell Neurosci. Doi: 10:3389/fncel.2014.00336. [Abstract]
Sathyanesan A, Feijoo AA, Mehta ST, Nimarko AF, Lin W (2013) Expression profile of G-protein βγ subunit gene transcripts in the mouse olfactory sensory epithelia. Front Cell Neurosci. 7:84. doi: 10.3389/fncel.2013.00084.
[Abstract]
Dunston, D., Ashby, S., Krosnowski, K., Ogura, T., Lin, W (2013) An effective manual deboning method to prepare intact mouse nasal tissue with preserved anatomical organization. J. Vis. Exp. e50538, doi:10.3791/50538
Krosnowski K, Ashby S, Sathyanesan A, Luo W, Ogura T, Lin W (2012)  Diverse populations of intrinsic cholinergic interneurons in the mouse olfactory bulb.  Neuroscience. 213:161-78. doi: 10.1016/j.neuroscience.2012.04.024. Epub 2012 Apr 21
[Abstract]
Aaron Sathyanesan, Tatsuya Ogura, Weihong Lin (2012) Automated measurement of nerve fiber density using line intensity scan analysis. J Neurosci Methods 206(2):165-75. doi: 10.1016/j.jneumeth.2012.02.019. Epub 2012 Feb 28.
[Abstract]
Ogura T, Szebenyi SA, Krosnowski K, Sathyanesan A, Jackson J, Lin W (2011) Cholinergic microvillous cells in the mouse main olfactory epithelium and effect of acetylcholine on olfactory sensory neurons and supporting cells. J Neurophysiol. 106(3):1274-87. Epub 2011 Jun 15.
[Abstract]
Ogura T, Krosnowski K, Zhang L, Bekkerman M, Lin W (2010) Chemoreception Regulates Chemical Access to Mouse Vomeronasal Organ: Role of Solitary Chemosensory Cells. PLoS ONE 5(7): e11924.
[PDF]
Slotnick B, Restrepo D, Schellinck H, Archbold G, Price S, Lin W. (2010) Accessory olfactory bulb function is modulated by input from the main olfactory epithelium.  Eur J Neurosci. 31(6):1108-16.
[Abstract] [PDF]
Lin W, Ezekwe EA Jr, Zhao Z, Liman ER, Restrepo D. (2008). TRPM5-expressing microvillous cells in the main olfactory epitherlium.  BMC Neurosci. Nov 24;9(1):114.
[PDF]
Lin W, Ogura T, Margolskee RF, Finger TE, Restrepo D. TRPM5-expressing solitary chemosensory cells respond to odorous irritants. J Neurophysiol. 2008 Mar;99(3):1451-60. Epub 2007 Dec 26.  This article is highlighted by the American Physiological Society and NIDCD.  http://www.the-aps.org/press/journal/08/5.htm.        http://www.nidcd.nih.gov/news/releases/08/03_04_08.htm
[Abstract]
Ogura T, Margolskee RF, Tallini YN, Shui B, Kotlikoff MI, Lin W.
Immuno-localization of vesicular acetylcholine transporter in mouse taste cells and adjacent nerve fibers: indication of acetylcholine release. Cell Tissue Res. (2007) Oct;330(1):17-28. Epub 2007 Aug 18.
[Abstract] [PDF]
Lin, W., Margolskee, R.F.,  Donnert, G., Hell, D., and Restrepo, D (2007). Olfactory neurons expressing transient receptor potential channel M5 (TRPM5) are involved in sensing semiochemicals. Proc Natl Acad Sci U S A 2007 104(7):2471-6.
Restrepo, D., Lin, W., Salcedo, E., Yamazaki, K., and Beauchamp, G. (2006).  Odortypes and MHC peptides: Complementary chemosignals of MHC haplotype? Trends in Neuroscience 29:604-609.
[Abstract] [PDF]
Lin, W., Arellano, J., Slotnick, B. and Restrepo, D. (2004).  Odors detected by mice deficient in cyclic nucleotide-gated channel subunit A2 stimulate the main olfactory system.  J. Neuroscience 24:3703-10.
[Abstract] [PDF]
Restrepo, D., Arellano, J., Oliva, A., Schaefer, M and Lin, W. (2004).  Emerging views on the distinct, but overlapping roles of the main and accessory olfactory systems in responsiveness to chemosensory signals in mice.  Hormones and behavior 46:47-56.
[Abstract] [PDF]
Lin, W., Burks, C.A., Hansen, D.R., Kinnamon, S.C. and Gilbertson, T.A. (2004).  Taste receptor cells express pH-sensitive leak K+ channels.  J. Neurophysiol. 92: 2909-19.
[Abstract] [PDF]
Lin, W., Ogura, T., and Kinnamon, S.C. (2003).  Responses to di-sodium guanosine 5′-monophosphate and monosodium L-glutamate in taste receptor cells of rat fungiform papillae.  J Neurophysiol. 89:1434-9.
[Abstract] [PDF]
Lin, W., Ogura, T. and Kinnamon, S.C. (2002).  Acid-Gated Cation Currents in Rat Vallate Taste Receptor Cells.  J Neurophysiol. 88:133-41.
[Abstract] [PDF]
Lin, W. and Kinnamon, S.C. (1999).  Physiological evidence for ionotropic and metabotropic glutamate receptors in rat taste cells.  J Neurophysiol.  82:2061-69.
[Abstract] [PDF]
Lin, W., Finger, T., Rossier B.C. and Kinnamon, S.C. (1999).  Epithelial Na+ channel subunits in rat taste cells:  Localization and regulation of aldosterone.  J Comp Neurol.  405 (3):406-20.
[Abstract] [PDF]
Wladkowski, S. L., Lin, W., McPheeters, M., Kinnamon, S.C. and S. Mierson (1998).  A basolateral chloride conductance in rat lingual epithelium.  J Membrane Biol.  164 (1): 91-101.
[Abstract] [PDF]
Lin, W. and. Kinnamon, S.C. (1998).  Responses to monosodium glutamate and guanosine 5'-monophosphate in rat fungiform taste cells.  Ann N Y Acad Sci  855:407-11.
[Abstract] [PDF]
Kossel, A.H., McPheeters, M., Lin, W. and Kinnamon, S.C. (1997).  Development of membrane properties in taste cells of fungiform papillae:  functional evidence for early presence of amiloride-sensitive sodium channels. J Neuroscience  17 (24): 9634-41.
[Abstract] [PDF]
Courses Taught
BIOL 305: Comparative Animal Physiology
BIOL 451: Neurobiology