Professor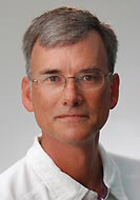 | | |
| --- | --- |
| Office: | BS 222 |
| Phone: | 410-455-3125 |
| Lab: | BS 204/217/220/222 |
| Lab Phone: | 410-455-2629 |
| Email: | bieberic@umbc.edu |
Education
Postdoctoral, Yale University, 1990
PhD, Johns Hopkins University, 1987
Professional Interests
Exploring the interface between development and cancer
During the past two decades, the molecular basis of animal development has been investigated with an ever-increasing arsenal of genetic and biochemical tools.  As our understanding of the fundamental processes underlying animal growth and differentiation from zygote to adult has increased, it has become clear that changes in developmental pathways often underlie disease.  The major focus of our work is to explore issues at the interface between development and human disease, with a view towards identifying novel points of therapeutic intervention.  We employ techniques that reach from the whole animal down to post-translational modification of individual proteins to bring the full spectrum of modern genetic, cellular, molecular biological, and biochemical approaches to bear on each problem.
Our longstanding interest in of homeobox gene function in mouse development intersected with human prostate cancer with the discovery of the mouse Nkx3.1 gene.  Over the past decade, the concerted efforts of many groups, including ours, have revealed that human NKX3.1 functions as a prostate-specific tumor suppressor.   NKX3.1 expression decreases in prostate cancer and in precancerous conditions.  We are currently investigating molecular mechanisms controlling transcriptional and post-transcriptional regulation of NKX3.1 and other prostate-restricted transcription factors that play roles in cancer.
Publications
Padmanabhan A, Rao V, De Marzo AM, Bieberich CJ. Regulating NKX3.1 stability and function: Post-translational modifications and structural determinants. Prostate. 2016 May;76(6):523-33.
Hubbard GK, Mutton LN, Khalili M, McMullin RP, Hicks JL, Bianchi-Frias D, Horn LA, Kulac I, Moubarek MS, Nelson PS, Yegnasubramanian S, De Marzo AM, Bieberich CJ. Combined MYC Activation and Pten Loss Are Sufficient to Create Genomic Instability and Lethal Metastatic Prostate Cancer. Cancer Res. 2016 Jan 15;76(2):283-92.
Chan F, Oatley MJ, Kaucher AV, Yang QE, Bieberich CJ, Shashikant CS, Oatley JM. Functional and molecular features of the Id4+ germline stem cell population in mouse testes. Genes Dev. 2014 Jun 15;28(12):1351-62.
Peltonen K, Colis L, Liu H, Trivedi R, Moubarek MS, Moore HM, Bai B, Rudek MA, Bieberich CJ, Laiho M. A targeting modality for destruction of RNA polymerase I that possesses anticancer activity. Cancer Cell. 2014 Jan 13;25(1):77-90.
Padmanabhan A, Li X, Bieberich CJ. Protein kinase A regulates MYC protein through transcriptional and post-translational mechanisms in a catalytic subunit isoform-specific manner. J Biol Chem. 2013 May 17;288(20):14158-69.
Padmanabhan A, Gosc EB, Bieberich CJ. Stabilization of the prostate-specific tumor suppressor NKX3.1 by the oncogenic protein kinase Pim-1 in prostate cancer cells. J Cell Biochem. 2013 May;114(5):1050-7.
Toughiri R, Li X, Du Q, Bieberich CJ. Phosphorylation of NuMA by Aurora-A kinase in PC-3 prostate cancer cells affects proliferation, survival, and interphase NuMA localization. J Cell Biochem. 2013 Apr;114(4):823-30.
Rao V, Guan B, Mutton LN, Bieberich CJ. Proline-mediated proteasomal degradation of the prostate-specific tumor suppressor NKX3.1. J Biol Chem. 2012 Oct 19;287(43):36331-40.
Li X, Rao V, Jin J, Guan B, Anderes KL, Bieberich CJ. Identification and validation of inhibitor-responsive kinase substrates using a new paradigm to measure kinase-specific protein phosphorylation index. J Proteome Res. 2012 Jul 6;11(7):3637-49.
Rao V, Heard JC, Ghaffari H, Wali A, Mutton LN, Bieberich CJ. A Hoxb13-driven reverse tetracycline transactivator system for conditional gene expression in the prostate. Prostate. 2012 Jul 1;72(10):1045-51.
Koh CM, Bieberich CJ, Dang CV, Nelson WG, Yegnasubramanian S, De Marzo AM. MYC and Prostate Cancer. Genes Cancer. 2010 Jun;1(6):617-28.
Lotan TL, Gupta NS, Wang W, Toubaji A, Haffner MC, Chaux A, Hicks JL, Meeker AK, Bieberich CJ, De Marzo AM, Epstein JI, Netto GJ. ERG gene rearrangements are common in prostatic small cell carcinomas. Mod Pathol. 2011 Jun;24(6):820-8.
De Marzo AM, Nelson WG, Bieberich CJ, Yegnasubramanian S. Prostate cancer: New answers prompt new questions regarding cell of origin. Nat Rev Urol. 2010 Dec;7(12):650-2.
Mohamed AA, Tan SH, Mikhalkevich N, Ponniah S, Vasioukhin V, Bieberich CJ, Sesterhenn IA, Dobi A, Srivastava S, Sreenath TL. Ets family protein, erg expression in developing and adult mouse tissues by a highly specific monoclonal antibody. J Cancer. 2010 Oct 25;1:197-208.
Gurel B, Ali TZ, Montgomery EA, Begum S, Hicks J, Goggins M, Eberhart CG, Clark DP, Bieberich CJ, Epstein JI, De Marzo AM. NKX3.1 as a marker of prostatic origin in metastatic tumors. Am J Surg Pathol. 2010 Aug;34(8):1097-105.
Khalili M, Mutton LN, Gurel B, Hicks JL, De Marzo AM, Bieberich CJ. Loss of Nkx3.1 expression in bacterial prostatitis: a potential link between inflammation and neoplasia. Am J Pathol. 2010 May;176(5):2259-68.
Iwata T, Schultz D, Hicks J, Hubbard GK, Mutton LN, Lotan TL, Bethel C, Lotz MT, Yegnasubramanian S, Nelson WG, Dang CV, Xu M, Anele U, Koh CM, Bieberich CJ, De Marzo AM. MYC overexpression induces prostatic intraepithelial neoplasia and loss of Nkx3.1 in mouse luminal epithelial cells. PLoS One. 2010 Feb 25;5(2):e9427.
McMullin RP, Dobi A, Mutton LN, Orosz A, Maheshwari S, Shashikant CS, Bieberich CJ. A FOXA1-binding enhancer regulates Hoxb13 expression in the prostate gland. Proc Natl Acad Sci U S A. 2010 Jan 5;107(1):98-103.
McMullin RP, Mutton LN, Bieberich CJ. Hoxb13 regulatory elements mediate transgene expression during prostate organogenesis and carcinogenesis. Dev Dyn. 2009 Mar;238(3):664-72.
Hansel DE, Nakayama M, Luo J, Abukhdeir AM, Park BH, Bieberich CJ, Hicks JL, Eisenberger M, Nelson WG, Mostwin JL, De Marzo AM. Shared TP53 gene mutation in morphologically and phenotypically distinct concurrent primary small cell neuroendocrine carcinoma and adenocarcinoma of the prostate. Prostate. 2009 May 1;69(6):603-9.
Shen H, Li X, Bieberich CJ, Frey DD. Reducing sample complexity in proteomics by chromatofocusing with simple buffer mixtures. Methods Mol Biol. 2008;424:187-203.
Guan B, Pungaliya P, Li X, Uquillas C, Mutton LN, Rubin EH, Bieberich CJ. Ubiquitination by TOPORS regulates the prostate tumor suppressor NKX3.1. J Biol Chem. 2008 Feb 22;283(8):4834-40.
Li X, Guan B, Srivastava MK, Padmanabhan A, Hampton BS, Bieberich CJ. The reverse in-gel kinase assay to profile physiological kinase substrates. Nat Methods. 2007 Nov;4(11):957-62.
Bethel CR, Bieberich CJ. Loss of Nkx3.1 expression in the transgenic adenocarcinoma of mouse prostate model. Prostate. 2007 Dec 1;67(16):1740-50.
Chuang AY, DeMarzo AM, Veltri RW, Sharma RB, Bieberich CJ, Epstein JI. Immunohistochemical differentiation of high-grade prostate carcinoma from urothelial carcinoma. Am J Surg Pathol. 2007 Aug;31(8):1246-55.
Bethel CR, Faith D, Li X, Guan B, Hicks JL, Lan F, Jenkins RB, Bieberich CJ and De Marzo, AM. 2006. Decreased NKX3.1 protein expression in focal prostatic atrophy, prostatic intraepithelial neoplasia, and adenocarcinoma: association with gleason score and chromosome 8p deletion. Cancer Res., 66:10683-10690.
Li, X. Maghami, S., and Bieberich, C. J. (2006) The prostate tumor suppressor NKX3.1 is regulated by protein kinase CK2, Mol. Cell. Biol 26(8):3008-17.
Chen, H. Mutton, L. Prins, G., and Bieberich, C.J. (2005) Distinct regulatory elements mediate the dynamic expression pattern of Nkx-3.1. Developmental Dynamics, 234(4):961-73.
Chen, H., Nandi, A.K., Li, X., and Bieberich, C.J. (2002) NKX-3.1 interacts with prostate derived ETS factor and regulates the acitivity of the PSA promoter. Cancer Research 62:338-340.
Bieberich, C. J., Fujita, K., He, W.-W., and Jay, G. (1996) Prostate-specific and androgen-dependent expression of a novel homeobox gene. J. Biol. Chem. 271:31779-31782.
Courses Taught
BIOL 442: Developmental Biology
BIOL 443: Advanced Topics in Developmental Biology