Professor Emeritus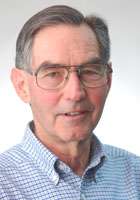 Education
Ph.D, University of Minnesota, 1965; M.Sc., Brown University, 1962; B.A., Brown University, 1960
Professional Interests
Microbiology, esp. biology of the gliding bacteria
Selected Publications
Siddiqui, Burchard & Schwarz.  2001. An undulating surface model for the motility of bacteria gliding on a layer of non-Newtonian slime. Intnl. J. Non-Linear Mechanics. 36:743-761.
Burchard. 1999. Beta-lactam antibiotic selection of non-swarming mutants of Flexibacter maritimus. Can. J. Microbiol. 45:786-790.
Burchard & Sorongon. 1998. Inhibition of adhesion and motility between gliding bacteria from a marine biofilm. Appl. Environ. Microbiol. 64: 4079-4083.