New BIOL Course: BIOL 415/615--Systems Biology
Instructor: Dr. Daniel Lobo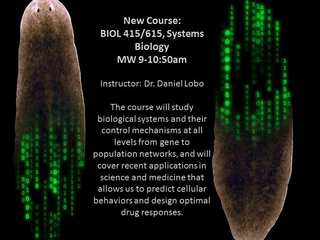 The Department of Biological Sciences will be offering a new course this Spring semester: BIOL 415/615--Systems Biology. This is a late-add to the Schedule of Classes, but please consider enrolling! 
The course will study biological systems and their control mechanisms at all levels from gene to population networks, and will cover recent applications in science and medicine that allows us to predict cellular behaviors and design optimal drug responses.  
Systems Biology will be taught by one of our newest faculty members: Dr. Daniel Lobo. Dr. Lobo specializes in the study of bioinformatics.