Interested in Marine Biotechnology?
Upper Level Elective Options of BIOL BA & BS majors
November 18, 2019 3:17 PM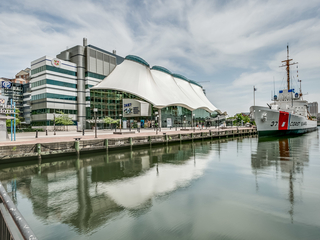 The UMBC Department of Marine Biotechnology is offering two courses in the Spring that can be used for the Biological Sciences B.A. and B.S. major requirements. Both courses will be taught downtown at IMET/Columbus Center; UMBC transportation is provided.
MBIO 361L - Sustainable Aquaculture Laboratory
Usable for Lab Elective, with request to advisor.
M 2:00-6:00pm
Students will be exposed to the theory and practice of aquaculture as well as concepts associated with the development of biotechnology supporting sustainable aquaculture. This course offers hands-on experience in fish/shellfish biology, aquaculture microbiology, and marine biotechnology at a state-of-art aquatic animal holding and production facility, the Aquaculture Research Center (ARC) at the Columbus Center.
MBIO 478 - Marine & Environmental Biotechnology
Usable for Column A Elective for BIOL BS students or Elective 1 for BIOL BA students, with request to advisor.
MW 10:00AM-11:30AM
This course covers the use of molecular techniques to address questions in marine and environmental sciences, toxicology and sustainability, as well as their use in discovering and developing useful products from marine systems. students will discuss current environmental challenges and will address these issues using molecular tools and management and policy. Representative topics include: bioremediation, discovery of bioproducts from marine organisms, sustainable aquaculture, development of biofuels, and the role of marine microbes in global carbon cycling.
Be sure to speak with your BIOL advisor for more information about how it can be used for the major.