Need an upper level or SS GEP course?
Check out GWST/SOCY 355 (Winter) and HIST 369 (Spring)
December 11, 2020 12:15 PM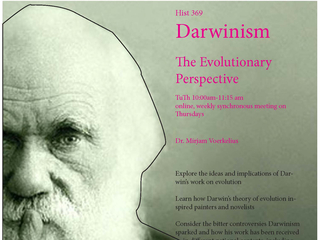 HIST 369
Darwinism: The Evolutionary Perspective
Spring 2021
TuTh, 10-11:15am
Online, synchronous meeting on Thursdays
Dr. Mirjam Voerkelius
Explore the ideas and implications of Darwin's work on evolution. Learn how Darwin's theory of evolution inspired painters and novelist. Consider the bitter controversies Darwinism sparked and how his work has been received in different national contexts, including Russia, Egypt, and the U.S.
Recommended preparation: any 100-level SS course or junior/senior standing.
GWST/SOCY 355
Sociology of Gender
Winter 2021
Online, asynchronous 
This course introduces the key concepts sociologists have contributed to the study of gender.  We will examine the origins and development of those concepts and empirical work on the sociology of gender in the last three decades. Intersectional feminist theories and research will be emphasized, as we examine how gender is socially constructed within ethno-racial contexts. Students will also be introduced to global/transnational concerns, studies of masculinities, the body and sexuality studies.
Pre-reqs: SOCY 101 or ANTH 211 or GWST 100